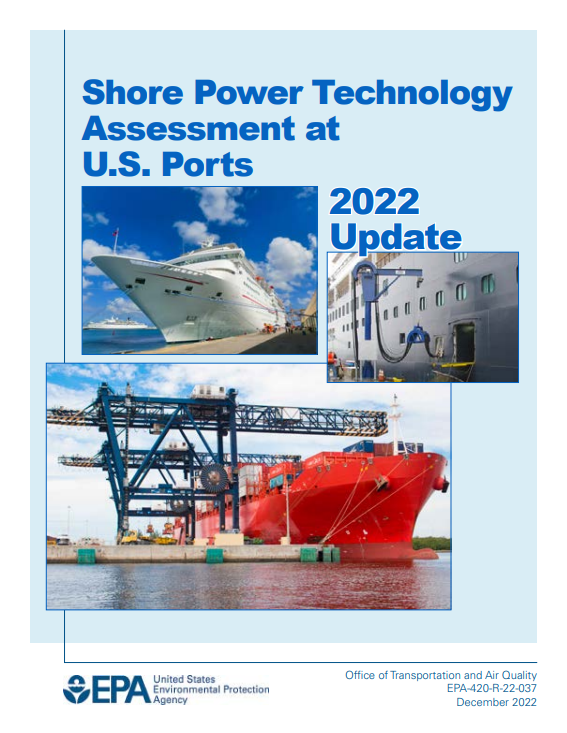 EPA Publishes Shore Power Technology Assessment at U.S. Ports 2022 Update
EPA Shore Power Technology Assessment at U.S. Ports 2022 Update
The EPA (Environmental Protection Agency) recently released an updated report, Shore Power Technology Assessment at U.S. Ports, which highlighted several AAPA member ports as examples of the success of shore power. Shore power technology allows ships to plug into landside electric power systems as an alternative to the diesel that many ports rely on today for energy. The Navy has been relying on shore power for decades, and ten ports currently use high voltage systems (for cruise, container, and refrigerated vessels) with many more ports using low voltage systems (for fishing, tug, workboat, and support vessels). The EPA report outlined best practices, guidance, and updates since their initial 2017 report of shore power projects in American ports, five years ago. 
Several member ports' green investments were featured in the report. Shore power helped the Port of Seattle reduce its CO2 emissions by 36% and the Port of San Francisco reduce its total emissions by up to 81%. Seattle became the first cruise port in the world to have 2 shore powered berths. 
The report also had several recommendations for ports. One important lesson from the Los Angeles case study was that it's important for ports to communicate with regulatory agencies. Another was that shore power isn't the most feasible option for tankers, but that capture and control devices can still reduce emissions on board. A lesson learned from Hueneme was that it's important to communicate with the electric utility early, often, and openly. 
New regulations from the EU and China are further encouraging shore power development, and there are now 68 shore-equipped ports in the world. Here in the US, shore power projects have recently been announced by ports in Miami, Galveston, Everglades, and Philadelphia. The EPA also developed a Shore Power Emissions Calculator (SPEC) to help interested ports estimate annual emission reductions. 
You can read the EPA's Updated Shore Power Technology Assessment at U.S. Ports 2022 here.