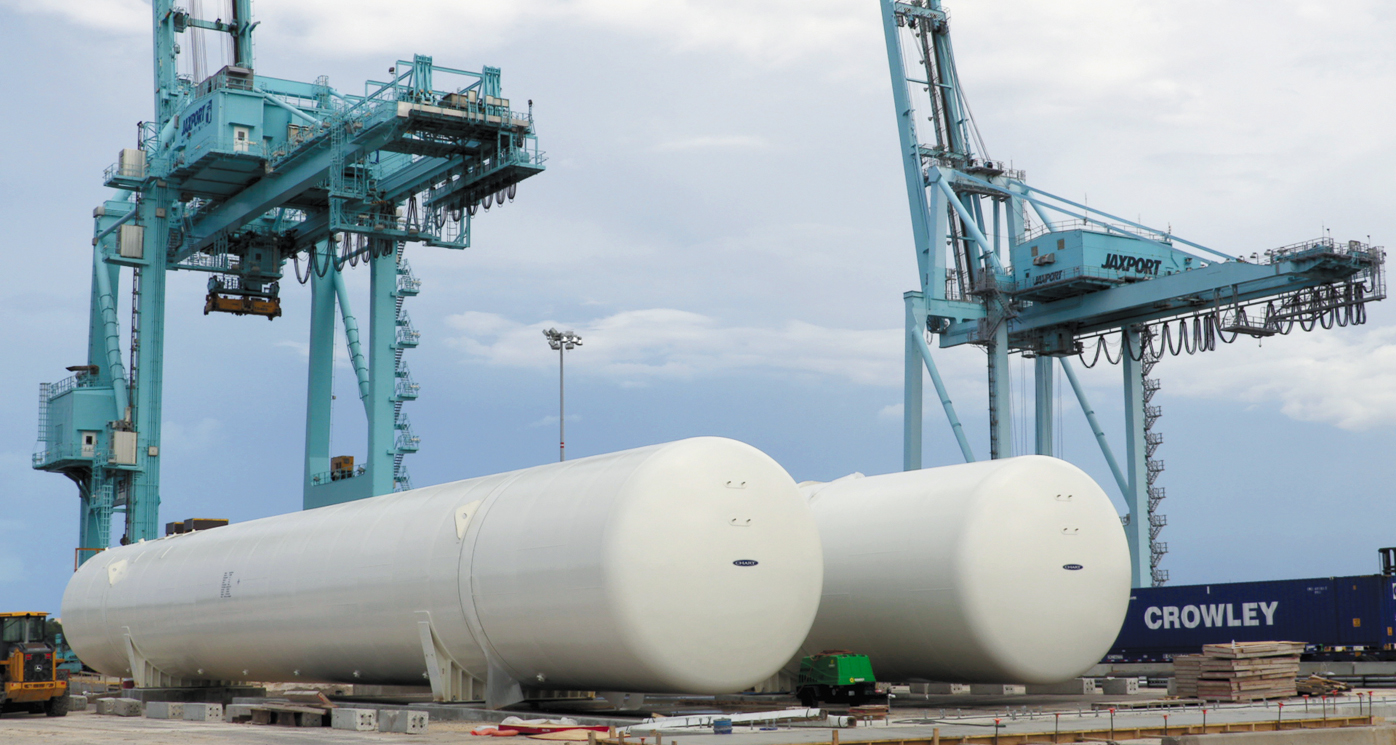 Fuels Of The Future – Liquified Natural Gas as a Maritime Fuel
Author:

Ian Gansler and Grace Ochs
As the transport industry considers how to decarbonize realistically and pragmatically, AAPA is looking at the possibilities, policies, and infrastructure needed for alternative fuels. It is worth noting the business and operations of seaports and maritime partners are always AAPA's paramount priority. Keep this in mind as you enjoy the final installment in AAPA's Fuels of the Future series, a five-part project, featuring liquified natural gas (LNG)

 as an alternative form of energy for vessels at berth.
Liquified Natural Gas, also known as LNG, is a fossil fuel that when used to power maritime vessels, can reduce carbon emissions considerably compared to traditional heavy fuel oil. LNG usage has been growing across the country in recent years. Its use is expected to grow 21% by 2025 from 2019 levels, and creates an opportunity for the industry to meet the International Maritime Organization (IMO) greenhouse gas reduction targets by 2030.  
LNG is seen as an environmentally friendly alternative to oil as it reduces greenhouse gas emissions compared with bunker fuel traditionally used for maritime shipping. The liquification of natural gas reduces its volume to 1/600 of its gaseous form, making it easier to store onboard vessels. LNG is relatively safe as it is lighter than air and diffuses quickly, lessening the risk of explosion. In the pre-liquification process, sulfur is removed from the fuel, therefore it emits extremely low amounts of sulfur oxides and particulate matter. Additionally, when burned, it emits less nitrogen oxides and CO2 than other fossil fuels. These reductions are crucial to achieving IMO's goals of 50% reduction in total greenhouse gas emissions from 2008 levels by 2050 with an eye towards phasing them out completely. Since the first carrier vessel fueled by LNG started service in 2000, LNG has grown in use to 175 LNG-fueled ships in operation in 2020, with hundreds more planned. Paired with operational and design efficiency measures, LNG can allow marine carriers to significantly mitigate emissions. 
While the risk is controllable, LNG usage can lead to methane leakage. This is a harmful gas that is 25 times more potent than CO2 in the atmosphere, making this an important concern. Rigorous practices and innovative technology at LNG's source can mitigate this risk. Additionally, because LNG must be stored at temperatures below -162°C, leaks can cause carbon steels used in ships to become brittle and fracture, damaging ships or bunkering containers. 
LNG can be used to transition the maritime shipping industry to even lower emission fuels that will meet the IMO's 2050 GHG reduction goals. One option for this transition that is already underway is to utilize bio-LNG in ocean-going vessels. Bio-LNG is a biofuel made by processing organic waste into gas and liquifying it to increase the energy density of the fuel. Bio-LNG has many of the same benefits as LNG but is carbon neutral. Companies like Nordsol capture emitted carbon dioxide for reuse, preventing any CO2 emissions from being released into the atmosphere. By implementing LNG on a wide scale, the industry can eventually transition to bio-LNG to reduce emissions even further as bio-LNG can utilize existing LNG infrastructure. By building out infrastructure for the production and transportation today, the maritime industry can make meaningful reductions in greenhouse gas emissions and prepare the industry for the decades to come.