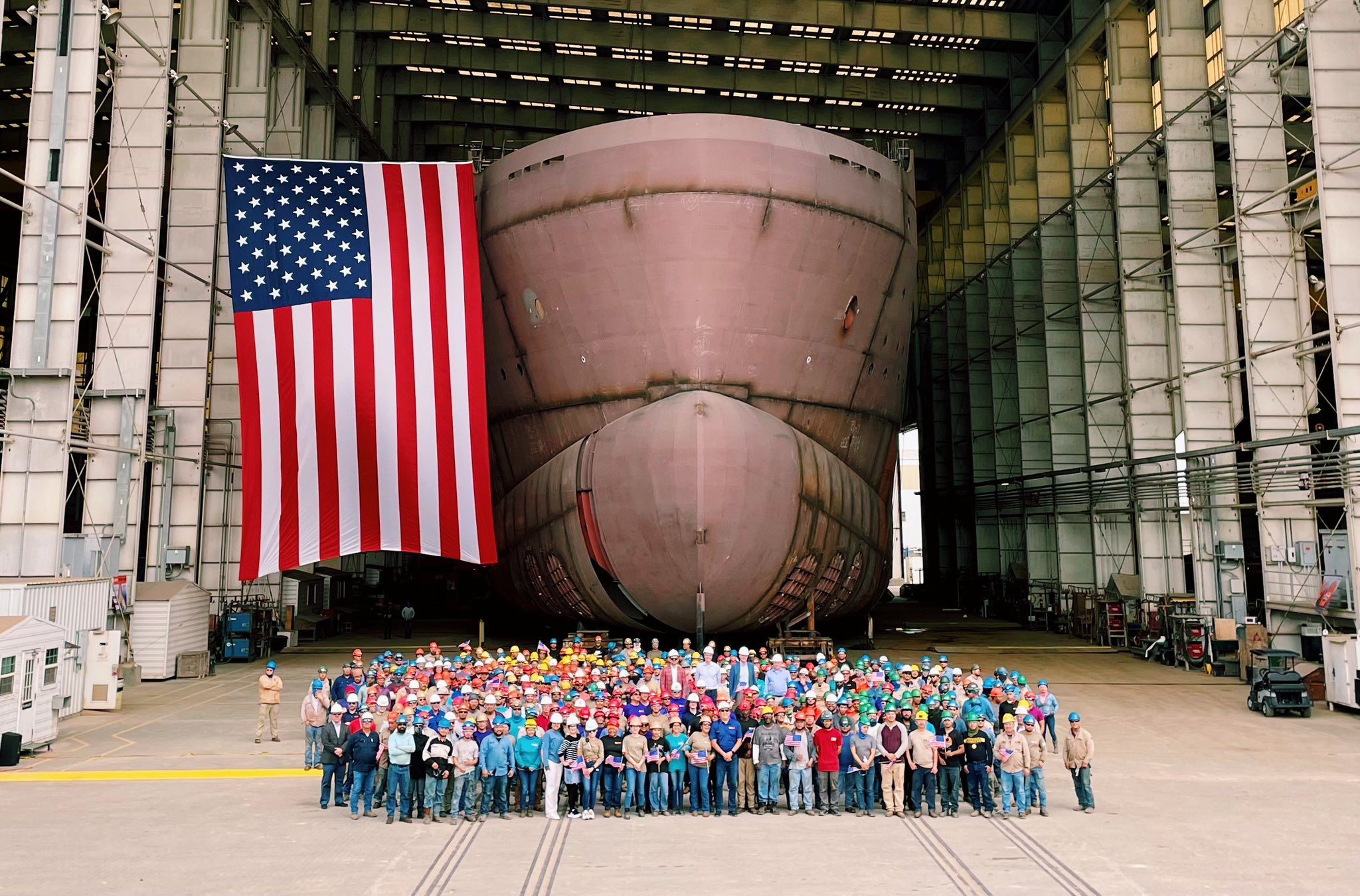 First US-Built Offshore Wind SOV Taking Shape in Louisiana
Read the full article by Mike Schuler in gCaptain.
The first offshore wind service operations vessel (SOV) built in the United States is taking shape.
The 262-foot long SOV, named ECO Edison, is being built by Edison Chouest Offshore (ECO) at its shipyard in Louisiana.
This week, senior executives from Ørsted and Eversource visited the shipyard to tour the progress of the vessel, which is now 50% complete. So far, more than 275,000 work hours have been logged with no lost-time accidents.
Once in service, the ECO Edison will play a key role in enabling domestic energy production.
The ECO Edison is also the first Jones Act-compliant wind farm SOV, meaning it was designed and built in the United States and will support American jobs. The vessel will serve as a floating, year-round home base for 60 American offshore wind turbine technicians, who will work at sea over the life of the wind farms, servicing and maintaining the wind turbines.
The vessel has been designed with special features that focus on passenger safety and comfort, enhanced maneuverability, extended offshore endurance, and reduced emissions. It includes a "walk to work" motion-compensated gangway that allows technicians to easily and safely access the wind turbines. A smaller, so-called "daughter" craft onboard can be deployed to efficiently maneuver crew across the wind farms.
"We're proud to put our expertise to work on such an important vessel for the offshore wind industry's future American fleet," said Gary Chouest, President of Edison Chouest Offshore. "Thanks to our decades of experience in offshore industries, our in-house engineers, and the hard work of more than 400 of our shipbuilders, we're now more than 50-percent complete on this historic, specialized vessel that will serve as a model for the U.S. offshore wind industry and a homebase for American offshore wind technicians for years to come."
The ECO Edison is expected to be christened in 2024 and will play an integral part in the operation and maintenance of Ørsted and Eversource's Revolution Wind, South Fork Wind, and Sunrise Wind projects, which together are planned to generate more than 1.7 gigawatts (GW) of offshore wind energy, enough to power more than a million homes. The vessel will be based in Port Jefferson, New York.
The vessel's construction has already supported hundreds of jobs across 34 states, and its completion represents a significant investment in America's offshore wind industry, which is driving economic development across dozens of states.
According to David Hardy, Group EVP and CEO Americas at Ørsted, "This shipyard and this vessel are living proof that American offshore wind energy is providing economic opportunity and creating jobs today across the country."
Meanwhile, America's first wind turbine installation vessel, Charybdis, is under construction in Brownsville, Texas, for Dominion Energy and is expected to be chartered by Ørsted and Eversource. The charter's terms will allow the Charybdis to also support construction of Dominion Energy's 2.6 GW Coastal Virginia Offshore Wind (CVOW) project off the coast of Virginia Beach, which is expected to be completed in 2026 subject to regulatory approvals.