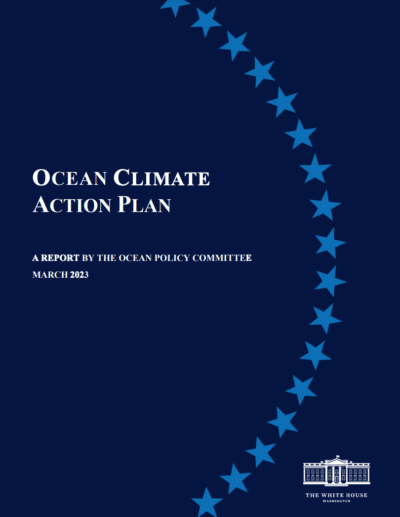 White House Releases Ocean Climate Action Plan
By Ian Gates
In March, the Biden-Harris Administration released its Ocean Climate Action Plan (OCAP). This plan will connect the Administration's climate goals and targets to agency actions in oceans. OCAP was prepared by a subcommittee of the Ocean Policy Committee that included 22 Agencies and offices that involve oceans.  
The Administration has set a bold goal of deploying 30 gigawatts (GW) of offshore wind energy by 2030 and 15 more GW from floating offshore wind platforms by 2035. To meet these goals, the OCAP directs agencies to allocate funds to R&D efforts focused on reducing costs and boosting turbines' resilience to sediment and salt water. An Offshore Wind Leasing Schedule will also be published and periodically updated in an effort to build a domestic supply chain for offshore wind development. The report also stated that the Administration is looking into incentivizing the production of wind turbine installation vessels in the US as well as working with the Department of Energy (DOE), Department of Transportation (DOT), and National Oceanic and Atmospheric Administration (NOAA) to develop the workforce that will be needed for marine energy development. In another action outlined by the plan, several agencies were tasked with modernizing port infrastructure and preparing ports for the arrival of wind power.
The report also outlined big goals for the maritime industry. The Biden Administration will work with other International Maritime Organization (IMO) members to fully decarbonize ocean shipping by 2050. Likewise, the report seeks to accelerate the transition to a zero-emission US Federal fleet by requiring low and zero-lifecycle emission fuels. The Administration will soon be establishing a funding program to support green technology for US vessel owners and operators. The port infrastructure modernization effort also will work to reduce pollution in port-adjacent communities. 
The report also described an effort to explore Marine Carbon Dioxide Removal (CDR). The Biden-Harris Administration will be implementing a federal program to support research and testing to explore Marine CDR. Agencies will start working to draft both policy and regulatory recommendations to prepare for its potential implementation. 
You can read the full Ocean Climate Action Plan and Appendix here.