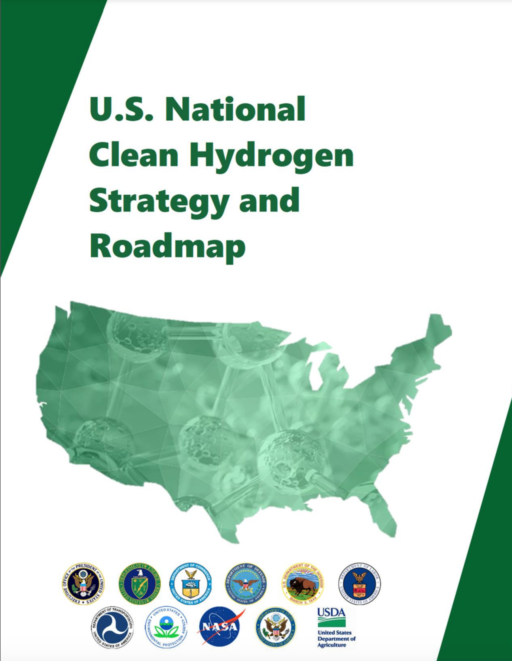 Department of Energy Releases Clean Hydrogen Strategy
By Isaac Nahmias
Read the full U.S. National Clean Hydrogen Strategy and Roadmap here.
Read the Department of energy announcement here.
The new White House U.S. National Clean Hydrogen Strategy and Roadmap has outlined a concrete strategic blueprint to achieve widespread adoption and large-scale production of clean hydrogen. By examining various scenarios for the years 2030, 2040, and 2050, the hydrogen industry will set the stage for a transformative future. The report does touch upon the maritime sector, but it falls short in providing comprehensive details compared to other transportation sectors. The American Association of Port Authorities (AAPA) is optimistic about the prospects of federal investment in hydrogen, particularly through the notable $8 billion Hydrogen Hubs program by the Department of Energy (DOE). Additionally, AAPA continues to advocate for the Hydrogen for Ports Act, which would establish a dedicated grant program specifically designed to enhance hydrogen infrastructure at ports. These initiatives hold immense potential to propel the maritime industry towards a diversified energy mix and more sustainable future. The roadmap indicates that hydrogen and other alternative fuels like ammonia and methanol present attractive alternatives to traditional bunker fuel. The use of hydrogen in marine vessels and port operations, including drayage trucks, shore power, and cargo-handling equipment, offers the potential to reduce emissions and develop cutting-edge infrastructure. Collaboration between the U.S. Department of Energy (DOE), the Maritime Administration (MARAD), and other entities has led to the development and demonstration of hydrogen and fuel cell technologies in maritime applications. Demonstrations like the deployment of a hydrogen fuel cell passenger ferry and the construction of a MW-scale electrolyzer on a floating barge aim to de-risk technologies for private sector investment and market adoption. Safety considerations, codes, standards, and global harmonization efforts are also being addressed in collaboration with organizations like IMO, MARAD, and international partners. AAPA will continue to advocate for federal support for hydrogen infrastructure in the maritime industry and will continue to work with port authorities and industry leaders to accelerate the adoption of alternative fuels.